Frequent Updates
Regular and reliable ground movement information.
Prioritization
Consistent monitoring for more effective maintenance planning.
Historical Analysis
Quality assurance of maintenance and repair work.
KEY VALUE POINTS
Why choose SILLE?
keyboard_arrow_right Coverage of the entire world
keyboard_arrow_right Works 24/7 in all weather conditions
keyboard_arrow_right Increase inspections to every 12 days
keyboard_arrow_right No need to stop traffic
keyboard_arrow_right Survey wide areas without a tripod
keyboard_arrow_right Subscription based service - pay per use
keyboard_arrow_right Systematic monitoring of large or small areas
keyboard_arrow_right Early warning insight for repair decision making
keyboard_arrow_right High accuracy measurement comparable to geodetics
keyboard_arrow_right Like weather forecasting for the ground beneath your feet
keyboard_arrow_right Applicable to all stages of construction - planning, construction, operation
keyboard_arrow_right Correlate locomotive and carriage movement statistics data with deformation
keyboard_arrow_right Measurement data analyzed to assess structural health and technical condition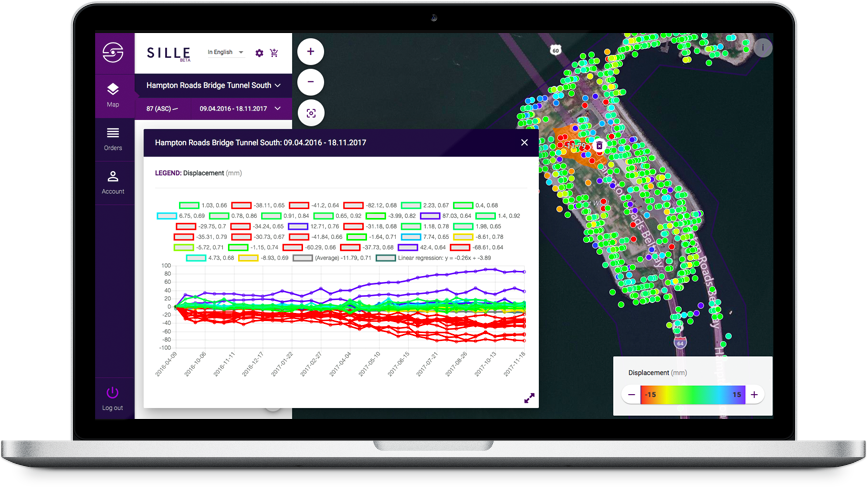 Try the free demo
Partnerships
Our Partners

FILL IN THE FORM TO ...
Request a Demo account