Bridges, Roads, Railroads
Civil Engineering
Subheading:

Bridges, Roads, Railroads
Hampton Roads Bridge-Tunnel (Rip Raps Island)
Case Background
The Hampton Roads Bridge-Tunnel (HRBT is the oldest tunnel on Interstate 64 in Hampton Roads and accommodates around three million vehicles per month, according to the Virginia Department of Transportation. The 5.6-kilometer (3.5-mile) tunnel connects Hampton to Norfolk in southeastern Virginia.
The westbound lanes of the HRBT opened in 1957, while the eastbound lanes weren't public until 1976. HRBT consists of two lanes each was built on a manmade, 8-hectare (20-acre) island. 
Originally designed for an average of 77,000 vehicles per day, the HRBT is currently used by 88,000 everyday and over 100,000 during tourist season. Past closures of the bridge-tunnel have resulted in backups of over 300 kilometers (20 miles). In 2016 plans for a $3.3 billion expansion were approved, increasing the bridge-tunnel from four lanes to six lanes both ways. Completion is projected by 2024, though initial construction has not begun.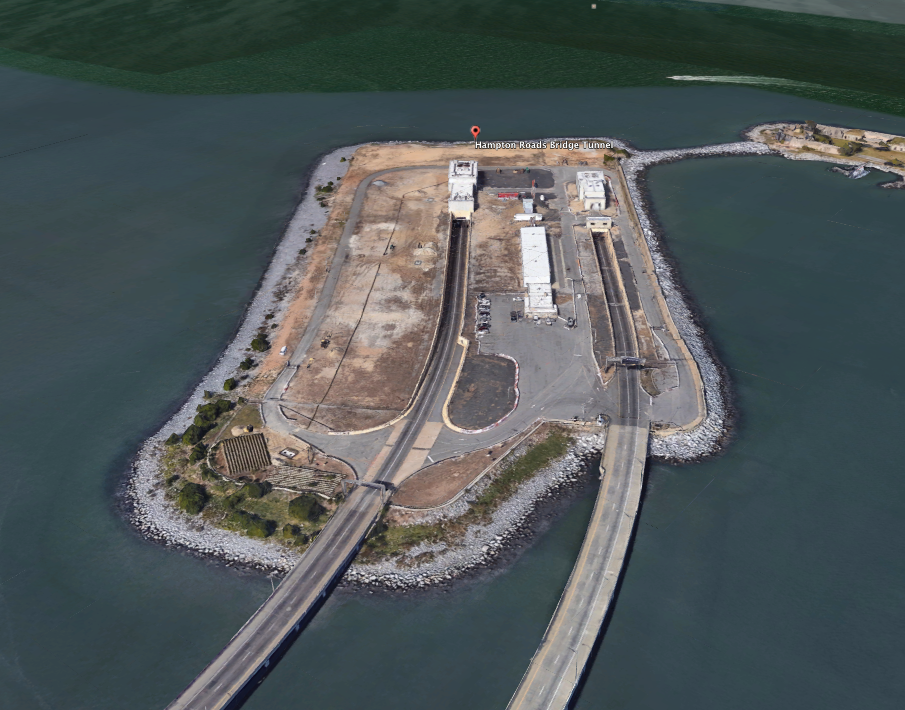 Rip Raps Island and entry/exit of HRBT. Source: Google Earth
Technical Background
Satellite images analyzed from spring 2016 to 2018 indicate displacement around the exit unit of the HRBT (I-64 East). They also show a divergence of movement (some points moving up and some down) beginning around April 2017.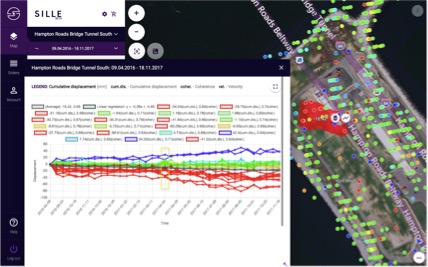 Graphed land motion of HRBT. 
There are various reasons why this deformation and subsequent divergence may be happening. The aging material of a four-decades-old structure, natural settling of the land, or a ground disturbance that has caused vulnerabilities to the structure. 
Three low-level earthquakes ranging from 2.0-3.0 magnitudes were registered in Virginia in the spring of 2017, according to the U.S. Geological Survey, confirming seismic activity that can cause the ground to begin deforming. 
SILLE Advantage
SILLE's early warning system allows local authorities to pinpoint problem areas for further study or needed repairs. Once the area has been inspected experts will better understand the causation. The value of SILLE is demonstrated in its ability to remotely identify areas of interest and provide deformation trend information to augment existing physical and GPS measurements. 
With the use of SILLE local authorities are able to easily monitor Rip Raps Island for further deformation, as well as other areas that could be affected by seismic activity, heavy construction blasts, or mining activities. Engineers are able to import SILLE data into geospatial systems to analyze the satellite findings alongside their own data. 
SILLE Risk and Resource Savings
Early detection of ground subsidence or critical infrastructure shifts
Remotely identify areas of interest
Provide trend information to complement current observation methods
Reconstruct historic deformation to better understand deformation trend and triggering event
Minimize the costs of data collection through remote monitoring