Subheading:

Hydro Dams
Oroville Dam
Case Background
The Orville Dam's main and emergency spillways were compromised in February 2017 due to heavy rainfall. Erosion damage impacted the spillways in such a way that concern eventually grew about the risk to the structure's crest, which if damaged, could lead to major flooding in communities below the dam. 
Immediate evacuations were ordered for the Oroville area and cities in Yuba and Sutter Counties, effecting almost 200,000 people. According to a February 2018 NBC News article, the crisis and subsequent repairs of the spillway are still impacting nearby businesses, especially in the tourism sector.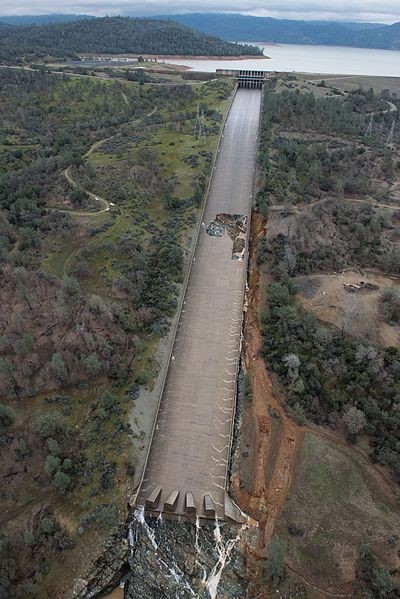 Oroville Dam Spillway damage. Source: California Department of Water Resources, Feb. 7, 2017
Some of the Dam's damage has been attributed to California's record rainfall in early 2017, which the Feather River hydrologic record indicated to be some of the wettest months in over 100 years.
The California Department of Water Resources has worked since May 2017 to repair and rebuild the spillways. While construction on the emergency spillway will continue into 2019, the main spillway reconstruction is complete as of November 1, 2018.
SILLE Advantage
SILLE analyses of the Oroville Dam indicate some motion along the middle of the dam most likely due to structural stress from the water weight force. The edges of the Dam's spillway did not show significant movement indicating that the damages sustained were not necessarily a culmination of long-term ground subsidence.
SILLE's value is demonstrated in its ability to consistently monitor a large area without installation of equipment and offers regularly updated data which can be compared with in-situ measurements for a comprehensive understanding of the dam for operational and maintenance needs as well as future risk evaluations.
SILLE Risk & Resource Savings
- Improve understanding of structural and ground motion that can affect dam operation
- Minimize the costs of corrective efforts through early vulnerability detection
- Efficiently monitor a large area for millimeter movements
- Reconstruct deformation for a better understanding of structure weaknesses