Wide Area monitoring, City, Port,..
Land Subsidence Monitoring
Subheading:

Wide Area monitoring, City, Port,..
Long-term land subsidence in Mexico City

Case Study Background
Land subsidence is one of the main hazards in engineering and construction. Urban land subsidence is a worldwide problem, and many cities in the world are susceptible to the dangers that land subsidence causes. Large scale subsidence leads to changes in ground elevation, damage to infrastructure, municipal facilities, and buildings, which poses a threat to the safety and security of the city.
In order to prevent and mitigate the impact and damage caused by land subsidence, it is imperative to establish an effective deformation monitoring and early warning system.
Massive groundwater extraction is common throughout Mexico and is well known to result in land subsidence.
"In 2014, Estelle Chaussard used ALOS data for time series deformation studies, analyzed land subsidence problems throughout Mexico City through SBAS-InSAR technology, and successfully identified land subsidence in 21 regions (including 17 cities). Mexico City has a linear vertical speed of more than 30 cm/year, while other places detect a speed of 5-10 cm/year". Source: E. Chaussard, S. Wdowinski, E. Cabral-Cano, and F. Amelung, "Land subsidence in central Mexico detected by ALOS InSAR time-series," Remote Sensing of Environment, vol. 140, pp. 94–106, 2014.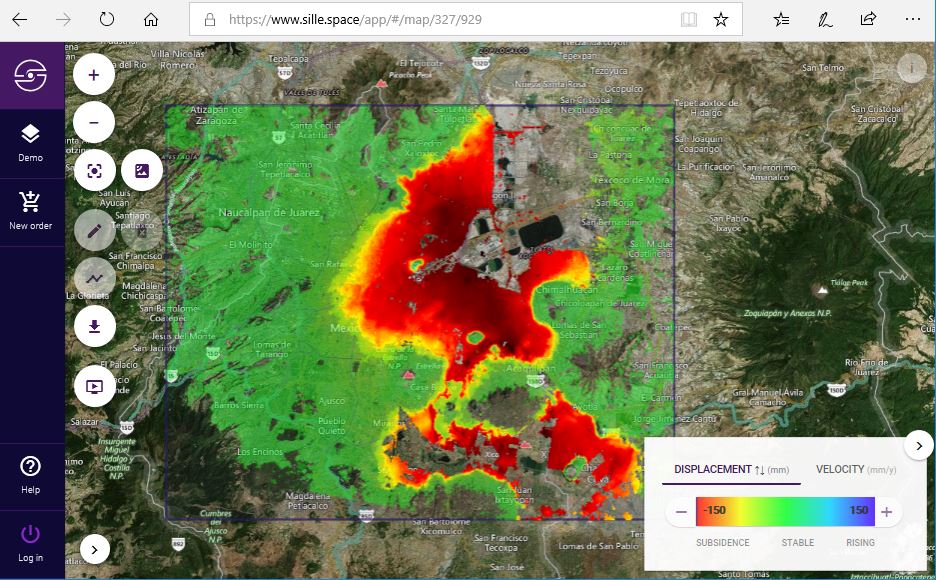 Source: www.sille.space
SILLE Advantage
SILLE's analysis of Mexico City indicates large-scale groundwater extraction in Mexico City which has caused serious above ground subsidence, more than 50 cm (20 inches) within two years. This causes damage to buildings and infrastructure. Ground failure from soil compaction in Mexico City due to urban expansion on high clay content deposits and lacustrine system: severe challenges for civil engineering and hydraulic projects.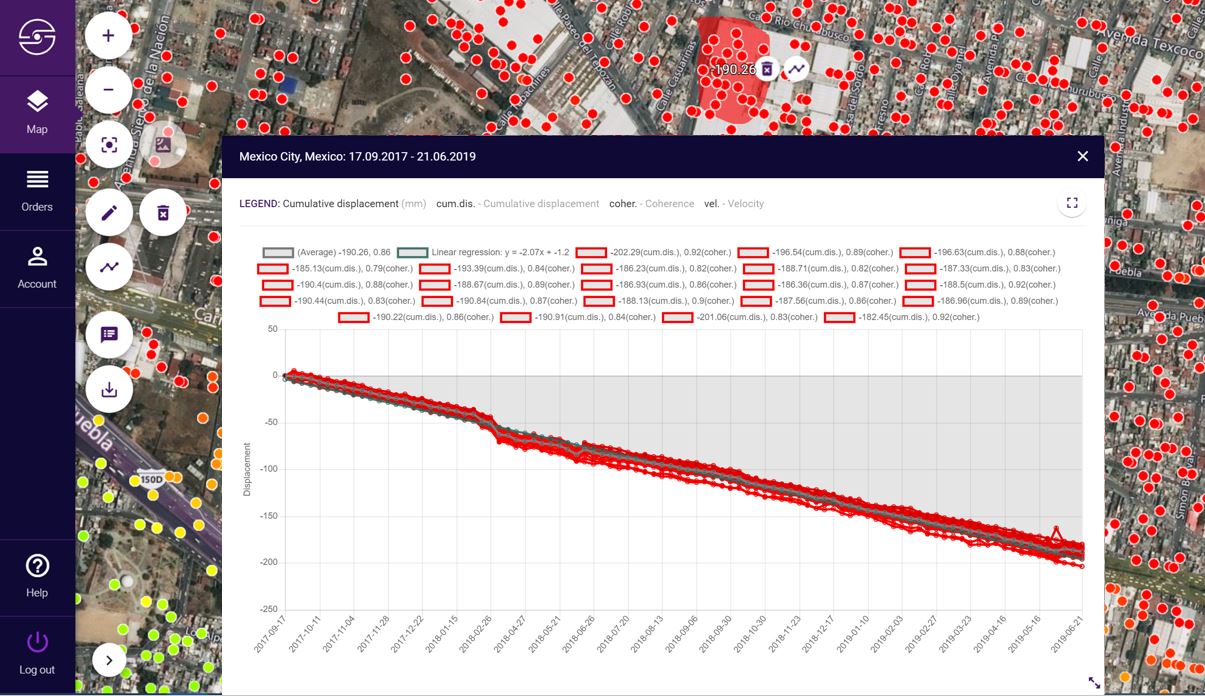 SILLE's value is demonstrated in its ability to consistently and cost-efficiently monitor large areas without the need to install specialist equipment and SILLE offers updated data on a regular basis, which can be compared with in-situ measurements for a comprehensive understanding of the area for operational and maintenance needs as well as evaluating risks.
SILLE Risk & Resource Savings
- Improve understanding of structural and ground motion
- Minimize the costs of corrective efforts through early vulnerability detection
- Efficiently monitor a large area for millimeter movements
- Reconstruct deformation for a better understanding of weaknesses
Relevant news articles:
https://fortune.com/2018/09/27/mexico-city-sinking-water-crisis-claudia-sheinbaum/
https://mexiconewsdaily.com/news/airport-is-sinking-as-much-as-30-centimeters-a-year/
https://www.spokesman.com/stories/2011/sep/25/mexicos-capital-sinking/
https://mexiconewsdaily.com/news/huge-investment-needed-to-stop-mexico-city-sinking/